This is my Owl Linocut Print!
This pas Spring, I sat in on one of Harbourfront Centre's School Visits workshops.  This particular day, they were visiting the Museum of Inuit Art (a terrific, small museum full of great work, and which I'd totally encourage you to visit), and taking inspiration from the exhibits on display there to create their own linocuts.
I chose this guy as my inspiration (an owl sculpture by artist Joe Talirunili):
Then I tried to sketch out my own version of an owl (inspired by the Inuit carving, but differently cute), and transferred the image to the linoblock (you press your drawing against the block, rub vigorously on the back of the drawing, and the pencil lead leaves an impression in reverse that you can then re-trace):
Then you cut it out with a carving tool; I hadn't done anything like this since I was in high school, so was re-learning how to carve the rubbery lino as I went.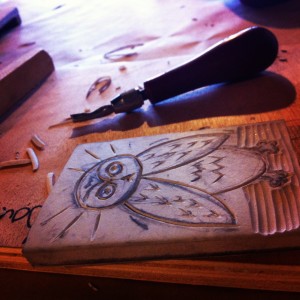 Once you're done carving, you use a brayer and ink to ink the linoblock, and then press it onto paper very carefully. I don't have any photos of that part, since I needed both hands.  In the end, I was pretty happy with the end product, and I'd love to get some more materials and work with this medium again.