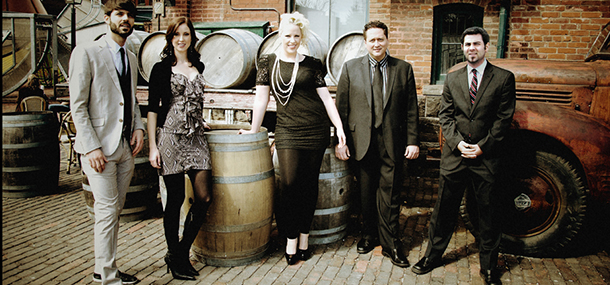 I'm running with my theme of 'Curation is Creation' and posting my lineups from previous years for the next little while.  Since my primary creative outlet is booking music, I thought it would be nice to celebrate that here.
It's not often that I reflect on my successes, and I'm really bad at self-promotion, so it's something new I'm trying. I'm trying to focus more on the things I take pride in than the various mistakes and mishaps that have happened with the various events I've worked on.  But really, these lineups are my pride and joy; I take a lot of satisfaction from looking back and surprising myself by how much I still love most of the musical lineups I've created.
Over the past decade, there's really only been a year or so that I haven't been actively booking music, and I found that year really dissatisfying and stifling.  That's why I recently incorporated my small company, Secret Frequency, as a non-profit;  I'll be pursuing arts grants and sponsorships, and working towards doing more and more autonomous booking at venues of my choosing.  The artistic freedom to book bands that I think are the right ones is important to me, and important to my work as an artist and curator.
Last month, I shared my 2015 Music City Summer Series, which is now underway in the Distillery District; this is the 2014 Summer Sunday Music Series, which ran June – August last year.
In case you're wondering, yes, I like alliteration and assonance an awful lot.
Led by powerful vocalist Tamar Ilana, VENTANAS weaves in and out of upbeat Bulgarian dance tunes, Greek, Turkish and Sephardic love songs, and heart-wrenching Flamenco dances, leading captive audiences through windows into other lands and cultures.
http://www.ventanasmusic.com/


The Fox and The Moon
An indie-folk-acoustic made up of two acoustic guitars (Chris Blachford and Kim Wexler), a mandolin (Stella Green) and wonderful harmonies which have mesmerized audiences from their first song together.
http://www.thefoxandthemoon.com/
Quique Escamilla was born and raised to a family of six in the warm, tropical southern lands of the state of Chiapas, Mexico. Today, Quique Escamilla is multi-instrumentalist, singer-songwriter, and producer living in Toronto. Since his arrival in 2007, he has rapidly become a rising star on the Canadian music scene. In 2011, he was discovered by a CBC radio producer and has since become a favourite on popular CBC Toronto shows such as Here and Now, Metro Morning, Fresh Air and Big City Small World. He won a JUNO Award in 2015.
http://www.quiqueescamilla.com/
Eh 440
Eh440 is a mix of 5 people from 5 very different backgrounds and musical genres. Joe's been a low bass singer his entire life, Luke's an urban beatboxer, Janet identifies as a country/pop singer, Stacey's soul/pop, and if that isn't confusing enough, Mike's even more of a musical chameleon who cites blues, folk, and "anything with a good groove" as his influences.Together they form "an unforgettable combination of crazy beatboxing, sassy rapping, killer harmonies, and fresh, urban, RnB-influenced compositions".
Melissa Payne
Part velvet, part gravel, Melissa Payne's voice stands out – her playing on fiddle and guitar a demonstration in passion and graceful restraint, her songs stomp and holler like a heatbeat leaving audiences enthralled.
SEAN CONWAY is a singer-songwriter and multi-instrumentalist currently residing in Peterborough, Ontario. An avid musical explorer, he effortlessly blurs the bridges between the classic sounds of 60's-era country music, early Brit-pop and doo-wop rock n' roll with his delicate eye for detail, all the while embracing his spontaneous nature as an entertainer and musician – constantly challenging himself as an artist and performer.
https://seanconway.bandcamp.com/


David Newland
"His songwriting—which celebrates the basic, small-town, homey pleasures of things like bare feet on a gravel road, strawberry season, and autumn leaves—while universal, is precise and beautifully integrated into the music in a way that seems inevitable." – Barry Hammond, Penguin Eggs
Claire Morrison
Folk songwriter Claire Morrison was born where two rivers meet, and makes music because she must. Spurred by a fierce devotion to beauty and tempered by sharp realism, hers are songs characterized by both light and dark, sweetness and melancholy. Breaking onto the scene in 2010 with Winnipeg-based duo Fire & Smoke, the 22-year-old poet delivers haunting solo numbers with fearless intimacy. Her rich, resonant voice can take you away and bring you home, her words can cut you deep and lift you up. Whatever the case may be, this Manitoban songstress offers up spare, stormy folk with a lot of heart.

http://clairemorrison.bandcamp.com/

Sarah Jane Scouten
A traditionalist at heart, Sarah Jane shows her signature flair for the roots of roots music, ranging from Western-swing, honky-tonk, Cajun and Appalachian string band music and a hint of the Maritimes. With respect for these roots, she writes from her own perspective, rather than taking on a persona or copying a style, and only writes about what she knows profoundly.
http://www.sarahjanescouten.com/
Kristine Schmitt and Her Special Powers
Kristine's songwriting somehow manages to sound both vintage and immediate. Brand-new tunes with an old-time urgency, you're never quite sure if what you're hearing was written last week or whether it's a tune that's been around the block a few times.